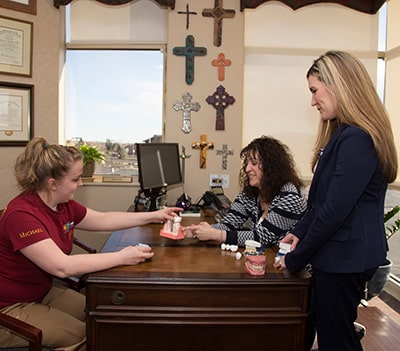 Temporomandibular joint syndrome, commonly known as TMJ disorder, is pain or discomfort in the jaw joint that can be caused by a variety of medical problems. TMJ disorder occurs when the joint that connects your jaw to your temporal bone is damaged. There are many common causes for TMJ, some of which include osteoarthritis, teeth grinding, jaw clenching, infection or trauma.
Some common symptoms of TMJ disorder include pain in the jaw, especially in the joint area; popping or clicking of the jaw; ear pain or ringing; a tight, stiff, or sore neck; facial, cheek, or chin numbness or pain; lockjaw; as well as some others.
There are a number of treatments for TMJ disorder and Dr. Jennings and Dr. Perrett have extensive knowledge and experience in choosing the treatment that is best for each individual case.
Our doctors would love to work with you to determine the best course of action and treatment plan for your specific case. Schedule an appointment today by calling 719.590.7100.