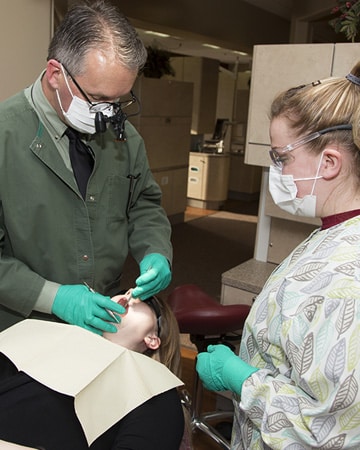 Hygiene:
When you visit us for a general hygiene appointment, you can expect to have the plaque and tarter buildup removed from your teeth as well as have your teeth polished. The doctors at Pinnacle Dentistry recommend receiving a cleaning at least every six months. At these appointments, we are happy to discuss healthy dietary and oral care habits you can implement at home, as well as address any questions you may have.
Prevention:
Regular dental exams help in preventing gum disease, infection, cavities and bone loss, and are important for the whole family. During your visit, a hygienist will clean your teeth and may take X-rays, and then Dr. Perrett or Dr. Jennings will perform a comprehensive exam by scanning all surfaces of your teeth and gums. A routine exam is our best opportunity to identify and prevent a problem before it becomes an even greater issue. Preventive care is a critical part of good oral hygiene as it can often save a significant amount of time and money in the long run. For example, if a patient is diagnosed with a minor cavity early on, filling that cavity can be done in a simple appointment. However, if the patient hasn't seen a dentist in years, that minor cavity can become a much larger problem, leading to more complicated treatment such as a root canal or tooth extraction. We recommend that patients visit us at least every six months to ensure their smile is staying in great shape.
Schedule your appointment with us today by calling 719.590.7100!