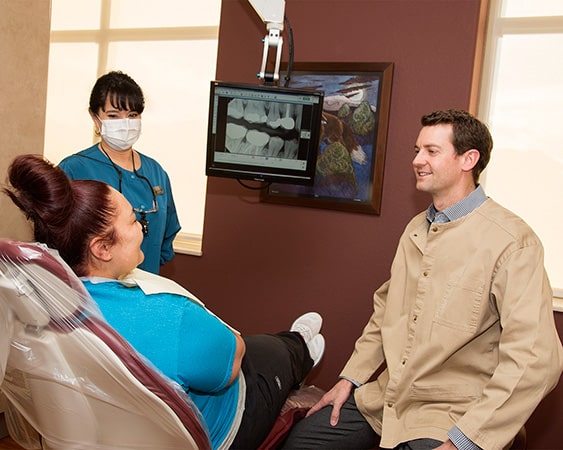 Dr. Jennings and Dr. Perrett can provide a full range of cosmetic procedures to help you achieve a beautiful, radiant smile.
Cosmetic dentistry is focused on providing you with a more beautiful smile through enhancing the appearance of your teeth, gums and bite. Cosmetic dentistry encompasses a wide variety of procedures including teeth whitening, reshaping, bonding, and veneers.
Teeth Whitening:
At Pinnacle Dentistry, we offer both in-office and at-home whitening options. Your smile is always our top priority.  In-office dental whitening is a great single-step option. When whitening in-office, we are able to use stronger bleach than the at-home treatments. Because of this, in-office treatment provides the fastest results as well as slightly less sensitivity than the alternative. Not only does this method remove surface stains, bit it also whitens and brightens your natural tooth color At-home whitening is a great choice for those patients who want to do it at their leisure, in the comfort of their own home. This method requires an appointment at our office so that we can create customized whitening trays. You will then receive a lower-intensity gel that you can place in the trays and wear for 15-30 minutes at a time. Teeth whitening is a cosmetic proc
Teeth whitening is a cosmetic procedure, so it is not covered by dental insurance. For information about pricing, please call our office at 719.590.7100.
Bonding:
Cosmetic bonding involves the application of a tooth-colored resin that is used to enhance the appearance of a tooth's surface. This process is generally used to replace visible silver fillings, repair chipped or cracked teeth, cover stains, close gaps between teeth, or protect a root where a gum is receding. The process for dental bonding is relatively simple. We will prepare the tooth by creating a rough surface for which to bond. Your dentist will make sure that the bond is the correct fit and color for your teeth. Lastly, the resin is placed onto the tooth, shaped to fit, and cemented on.
The application process can be done in a single 30-60 minute appointment and sometimes does not even require anesthesia. For dental bonding in Colorado, come visit Pinnacle Dentistry in Colorado Springs.
Tooth Reshaping:
This process is used to reshape a tooth or multiple teeth to bring them back to their natural look and feel. To do this, Dr. Jennings or Dr. Perrett will remove small amounts of enamel to change your tooth's length, shape, or surface. The end goal of dental reshaping is to achieve a more unified, aesthetic look to your whole smile. The reshaping process will help teeth to look less crowded, feel more comfortable, and decrease inconsistent-looking enamel. The changes will be subtle and can even be an option that can replace braces (for patients with minor overlapping or irregularity).
This procedure is rather painless, as only the surface is affected and altered. Tooth reshaping is only recommended for smaller fixes, and our doctors at Pinnacle Dentistry will perform a comprehensive exam to determine if this is the right course of action for you.
An ideal candidate for tooth reshaping is someone who is unhappy with the look or feel of their teeth.
Veneers:
Veneers are a wonderful option to improve the look of teeth that are permanently discolored, worn down, chipped, broken, misshapen, or misaligned. Veneers are thin, tooth-colored shells made of either porcelain or ceramic, and they cover the surface of your natural tooth. A good veneer candidate is someone who is displeased with the color, shape, look or feel of one or many teeth. A veneer may be recommended after trauma to the tooth, or because of daily wear and tear. Veneers are usually placed on the front teeth, as that is where most cosmetic concern comes from.
The procedure itself is relatively simple. We will remove about a half of a millimeter of enamel from the surface of the tooth, and then bond the veneer onto the tooth. The fit and color will be examined by the dentist before permanently cementing the veneer.
The doctors at Pinnacle Dentistry will customize each veneer to perfectly fit in your mouth, creating a natural and even look. The final result is a smooth, authentic, and aesthetically pleasing smile.
To further discuss these options and decide what is best for you, please call 719.590.7100 and we will be happy to schedule your appointment.